Dancing away boundaries
Written by: Lubna Marium
Posted on: Saturday 20th of August 2016 06:19:13 AM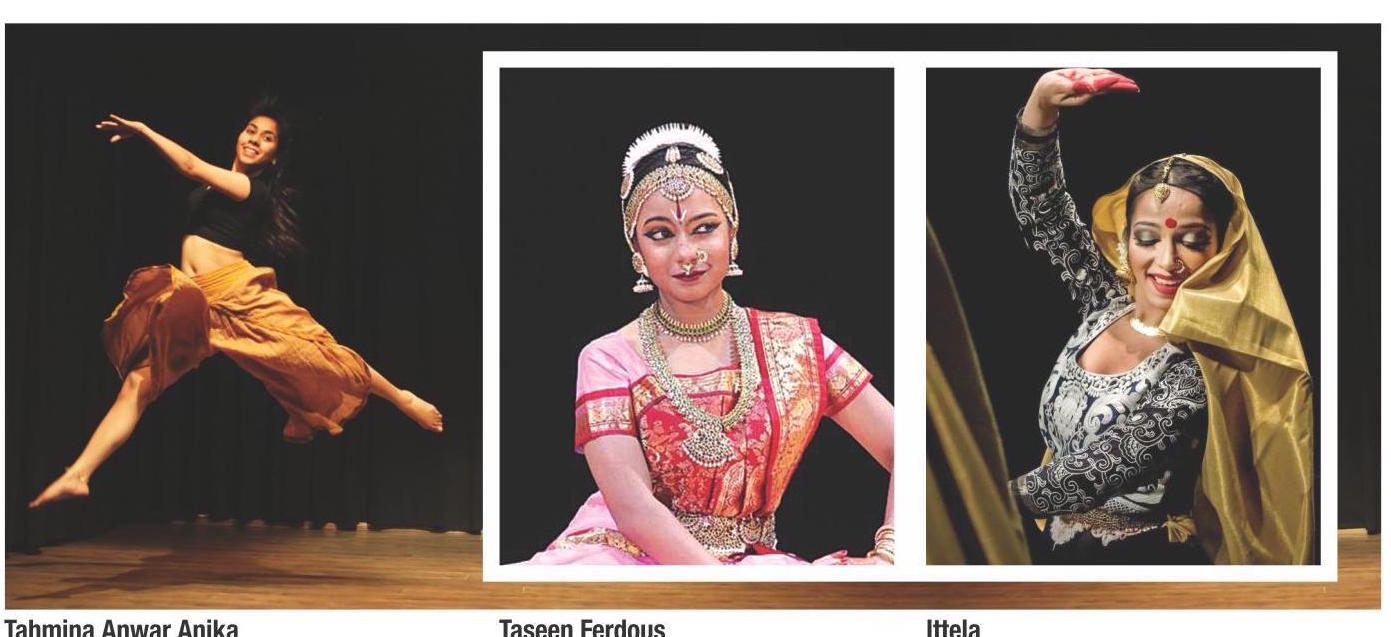 Dancing away boundaries

The thought of three young Bangladeshi dancers in North America immediately conjures up images of distance, of 'otherness', of struggle. On the other hand it also speaks about the human spirit's ability to soar above all this, through an expanded capacity for change, to co-create and revel in transcultural genres of dance.

Tahmina Anwar Anika, a well-recognized and awarded dancer in Dhaka, is presently dancing her way through a Bachelor of Fine Arts (Dance Honors) in the Choreography and Performance stream, at York University in Canada. Umama Nowrose Ittela, both a dancer and choreographer from Dhaka, is now based in Toronto (Canada) and performs extensively amongst the Bangladeshi and South Asian communities. Taseen Ferdous, daughter of Bangladeshi dancer Annie Ferdous, who runs a popular dance school in New York, is an out and out New Yorker, gaining recognition as a proficient Bharatanatyam dancer.
By recognizing and crossing bridges between different cultural genres, these young artistes are using dance as a tool that subtly sculpts and broadly transforms the global social landscape.
Anika, a student of Munmun Ahmed and later Krishan Maharaj, had to go through a grueling year of intense training in Western Contemporary dance to go through tough auditions to get admitted into the BFA course at York. It was a frustrating time for her, as few acknowledged her years of training in Indian classical dance. However, she was bent on acquainting herself with a new way of looking at dance and extending her own practice. She feels immensely rewarded for her hard work, as this new training regime is more reflective and accommodating of a dancer's creative instincts. Anika hopes to be able to incorporate all this in her traditional practice. In her own words, 'Grounded on my present training, I want to find a movement series, based on Indian classical forms, which is going to be a sequence of movements where all the body parts are moving in a simultaneous manner. I hope that it will help South Asian dancers to access their potential to create their own movement and access a higher kinesthetic awareness that connects the body and the mind.'
Ittela, on the other hand, within just three years of her relocation to Canada with her dancer husband, Mithun Reza, has been recognized with an Award of Appreciation by the City of Toronto for making her environs 'a healthy and vibrant place' through her dance practice. Having studied under Shibli Mohammad from childhood, Ittela then moved on to learn various other genres. In Toronto Ittela has rediscovered the purpose of her dancing soul through the city's diversity. The need to preserve traditional and classical dance forms within the Bengali and South Asian community has given a new dimension to her work. Ittela is using dance as a tool to connect Canadian Bengali youth to their roots and it's rich culture. She has already staged "Mohua" and "Chitrangada" - popular Dance drama's from Bengali literature. Her recent work was an English theatrical dance presentation, "Mutilated Spirit 320 BC", a production which involved 39 Canadian performers from different ethnic backgrounds dancing to the forms like kathak, flamingo, tango,hip-hop and lathi dance.
In New York, Taseen has been a part of her mother's vibrant school Bangladesh Institute of Performing Arts (BIPA) from childhood learning Bangla folk and contemporary dances from childhood. She began learning Bharatnatyam from the age of 13 from Thejaswini Raj at the Shiv Jyoti Dance Academy. After learning for 8 years, Taseen completed my Arangetram in 2013. She continues to perform with and learn from BIPA and Shiv Jyoti Dance Academy. Dance helps Taseen to find her inner spirituality. In her words, 'Finding a spiritual connection with a higher being requires a different level of consciousness and cognition, but finding peace within oneself is the first step. When I dance, I aim to find that inner peace. Bharatnatyam has brought me closer to my roots by allowing me to realize that we are all indeed one; that difference in color, race, gender, or religion is a strength of mankind rather than a weakness, and that if we nurture these differences we can create a fulfilling life. For Taseen, it is always an inner battle to find the appropriate balance between traditional culture and modern culture. Ultimately, she hopes to bridge the gap between the two. She says, 'Change is a necessary and a vital part of growth, but it does not mean that we must let go of tradition. It simply means that we have to find a way to bridge that gap. My goal is to create that change, to create pieces of work that allows American born Bengalis to connect with their ancestors.'
We live in a society that has conditioned us to use our bodies as machines at the service of tasks or, for women, often to be objectified and sexualized. By recognizing the immense power of art to change how we look at our world, and ourselves these young dancers are engaging in an empowering, uplifting, unifying and transformative experience. They are the change makers, for themselves and for the world.



---
Leave a Comment:
---